In November 2012, I spent a weekend testing Office 365 Wave 15 Preview on mobile devices and some limited testing on Mac and Windows.  The results of that testing are published in this post (https://charlielove.org/?p=8215) however, because Education Scotland are deploying Wave 14 of Office 365, I thought it would only be fair to carry out the same tests using the same mobile devices on Wave 14.
However, do you believe everything you are told or read on-line? Here is a link to Microsoft's own breakdown of how Office 365 functions on iOS and Mac. This is a quote from Microsoft's published Office 365 Enterprise Service Descriptions (Office 365 Support for Apple Mac and iOS Devices) – updated on 18/01/2013.
Collaboration Capabilities: Document Sharing with SharePoint Online

iOS users can view Word, Excel, and PowerPoint documents using Office Web Apps rendering in the mobile browser and are able to provide access controls to data through document level permissions.
That's it.  You can VIEW documents. But there are developments for iPad and I'll test the other devices just to prove Microsoft's statement.   It's also true to say that Microsoft are updating Office 365 at regular intervals and are addressing many of the issues that users encounter.
Exchange Email/Active Sync and Lync
It all works and has done for many, many years.  Your mobile device clients and desktop clients that support Exchange Email, IMAP/SMTP and POP/SMTP will all work with Office 365.  I'm not going to repeat the test for Exchange because it is the most stable part of Office 365. I have Wave 14 email/contacts/calendar up and running on iOS (iPad and iPhone) and Android (2.3 Phone and 4.2 tablet).  It works using the native mail clients, contacts and calendar tools on these devices.  But that is no surprise – Exchange is one of the areas that Microsoft do extremely well!
Lync 2010 client on iOS and Android is a basic app which gives you presence when signed in.  You can access contacts, engage in text chat and join meetings via a call (on iPhone when this enabled). It works well and does what it says on the tin – no VoIP (voice over IP or Video support  though which is a pity when you can do all that with Skype – another Microsoft product).  So Exchange and Lync, as with Wave 15, are pretty solid on Wave 14 mobile devices.
Let's go straight to the team site and try some tests on Sharepoint and the Office 365 Web apps.
iPad, iOS 6.1 and Office 365
Let's start off with the iPad since it was the best served device in the Wave 15 tests.  From the login, we get the standard Sharepoint Welcome screen – no mobile view just the standard desktop one, which is good.
Uploading an image into Sharepoint 
Document store
Selecting the Add Document in the link in the Documents Web Part displays the Documents upload dialogue with a Choose File button. Clicking this button displays the standard iOS Take Photo or Video / Choose Existing dialogue to upload images.  So uploading images/video from your iPad works and I've successfully uploaded camera shots from the iPad camera.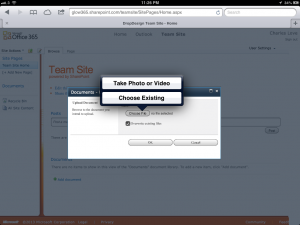 Uploading a Document or Other file to the Sharepoint Document store
Well, you can't. Even if you did have existing content crafted in Pages, Numbers or Keynote you cannot upload it from the iPad.  You only get the option to upload from your Photo library.
Once your images or files uploaded from the desktop are in the Document store you may have difficulty opening them in an editor. I found that sometimes touches were not recognised or they were treated as mouse-overs rather than mouse clicks. I think it would be true to sat that Sharepoint on Office 365 is not a touch-friendly environment.
Using Word Web App in Office 365 Wave 14
Editing a Word Document
The Documents Web part allows you to create content as well, using the various Web Apps for Office 365.  Just as with the Wave 15 version adding text works pretty well (the buttons etc. are a bit small and not really designed for a touch interface but it does work).  You do have to click an additional button to Edit the document but this works without issue.
Interestingly, it asked me if I wanted to install Silverlight on my iPad.  Silverlight is a proprietary Microsoft technology that runs in the browsers of desktop operating systems (there are versions for PC and Mac).  I can only assume that this is a bug and it isn't correctly recognising the iPad's Safari browser.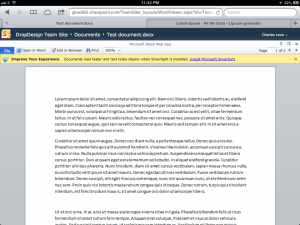 Working with any document of more than a couple of paragraphs is difficult because the Office Ribbon scrolls off the screen and you have about 7cms of screen height when the iOS keyboard scrolls up.  You scroll back up to the top to make your selection and then the Ribbon stays on the screen however you now have only a little under 2cms in which to actually edit your document.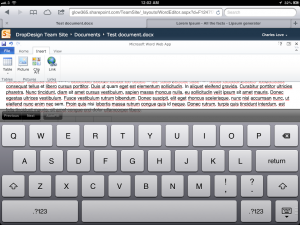 This becomes difficult to work with and rather frustrating.  I tried to insert an image into my Word document from the iPad library. The button asks you to select the image, which I do but nothing happens. Again, this is another bug – I was able to replicate this several times. I cannot upload an image to a Word document from my iPad.
Working with tables is difficult as the Insert Table button doesn't respond to the touch drag operation correctly on the iPad and the tables themselves don't work well with touch.  Also frequently, when selecting from menus or from the Ribbon, large areas of the screen are selected and you don't get your desired menu selection.
Inserting ClipArt works well and there are a lot of images in the Office ClipArt Library. Clicking the Link button on the Insert Ribbon did nothing. The button changed to be highlighted as if it would work but then nothing happened. I exited the document and reloaded it and the second time the Link dialogue was displayed and I could add my link. So, insert link isn't entirely stable.
Styles: you are pretty much stuck with the range of default styles in the ribbon.  There didn't appear to be a way to edit styles. Spell checker works ok – obvisously no right clicking words but you can select a work and then click the Spelling button to get a single work or collection of words checked.
Legacy binary documents (Microsoft Word 2003 and earlier are not support by the WebApp in Office365).  This means no support for .doc files.

Unlike Google Docs Wordprocessor, I was unable to open the same document at the same time using multiple accounts to enable real time collaboration using only the Word Web App.  I was blocked with a warning that the file was open by someone else.
Using Excel Web App in Office 365 Wave 14
As with .doc there is no support in the Web App for .xls files from Excel 2003 and earlier. You can only open files which are of the XML data type. This means you can only edit online Excel files from Excel 2007. Excel 2010 or from Excel 365.
Editing an Excel file on the iPad using the Excel Web App is not a nice experience, it works but it is difficult to control.  Selecting sections of the spreadsheet is difficult because the drag isn't supported and the Web App keeps selecting the whole row.
I was able to open a file with the Web App using multiple accounts and edit it.  The lag on the document edits was several seconds and would be too slow for true realtime collaboration but there is some opportunity for group document editing with Excel.
As with the Word Web App when the device is in landscape, the keyboard is in use and the ribbon is shown (which is most of the time!) then the screen space to work is limited.  The situation is better if the device is in portrait however all the screen elements are significantly smaller.
Inserting charts and tables is almost impossible because you cannot select cell ranges because you cannot drag out the area to be selected.  So, yes, Excel works but only to a point. Would I ever want to use the Excel Web App in the iPad browser. No, because it isn't usable.
Using PowerPoint Web App in Office 365 Wave 14
I loaded the PowerPoint Web App with my iPad in portrait orientation, it then displayed the New Slide dialogue.  I changed the rotation to landscape and the Add Slide/Cancel buttons disappeared off the bottom of the screen with no way to either drag the window up or scroll down!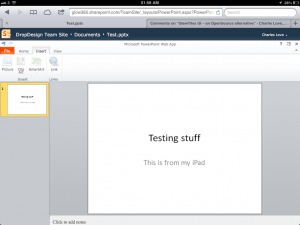 In the PowerPoint Web App I have VERY FEW editing options available on iPad. I can add slides, choose plain layouts for them, enter and format text in slide text boxes, duplicate and hide slides. I cannot add graphics, change background, add Links, add SmartArt or even ClipArt! 
As a tool for creating presentations,  the PowerPoint Web App is totally unusable. You might be able to sketch out an outline of a presentation in plain white slides and text but why would you?
Using OneNote Web App in Office 365 Wave 14
Microsoft have a native OneNote app for iPad but it doesn't work with the Office365 accounts,  only with a Microsoft Live account. Using OneNote on the iPad is very similar to the experience of PowerPoint. Very little of the functionality works.
I can hide/show pages from the sidebar, I can type text in a page (only after I have touched the magical sweet spot on the page to activate the text entry point!) When I try to insert a picture or a photo taken with the camera, nothing happens (the same behaviour as the Word Web App). Inserting ClipArt and Links works and I can add new sections and pages. It is irritating that if I add an object, say a section, I have to then touch the textbox before it has focus (i.e. before the flashing text entry cursor appears in it!).  On a desktop PC this would happen automatically.
I'm afraid, OneNote is only a tiny bit more usable that PowerPoint (so not really).  The full OneNote app and the iPad App are great tools for note taking and recording but the OneNote Web App is nowhere near them as a tool.
In all the Office Web Apps, I found I frequently had to pinch zoom, edit, zoom out, over and over again. It meant that I could not engage in the normal flow of editing a document and I spent large amounts of time just trying to get the parts the were working to detect touches/clicks.
Using Outlook Web App in Office 365 Wave 14
Unlike Wave 15, which has a nice Modern UI Web App for Outlook, Wave 14 has the standard desktop outlook look-a-like with small buttons unsuitable for touch and small font text.
It works reasonably well, you can attach images from the camera and from the photo library to your emails and you can manage calendar and contacts. The normal set of message sending, forwarding, receiving options are present.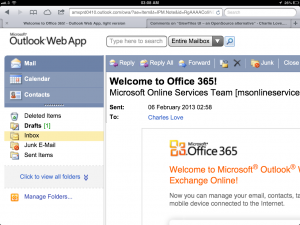 You can't drag and drop email into folders of the rubbish bin/junk email folder and the whole web app is not optimised for touch.
So, as far as iPad is concerned you can do a little bit more than view content but, to be honest, not much more and it certainly isn't a pleasant user experience.
iPhone 4S (iOS 6.01). HTC Desire (Android 2.3), Google Nexus 7 tablet.
Microsoft are true to their word and you can only view Word, Excel and PowerPoint documents in Office 365 Web Apps.  The Lync 2010 Client still doesn't install on the Nexus 7 Tablet (it says it requires the phone to be functional).  There is no support for OneNote on any of the devices and there is no link to OneNote from the simple Sharepoint Mobile view.
Some sample shots from iPhone are shown below: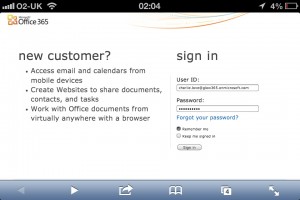 There isn't a mobile version of the login screen. You just have to zoom in or see the tiny writing.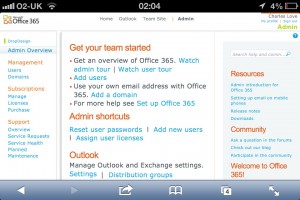 No mobile version of the main landing page. It's only when you select the Team Site that you get the mobile view of content.
The Sharepoint mobile view is limited to text and links. Unlike Wave 15 you cannot request the full desktop view.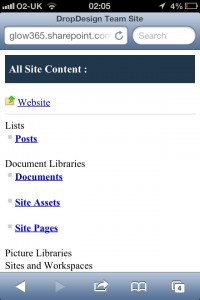 You can choose to view Documents or other aspects of your site.
Documents open in a Word viewer which you can zoom in on and scroll.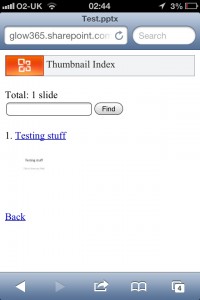 PowerPoint Mobile Web App displays a thumbnail view of your slides with text links.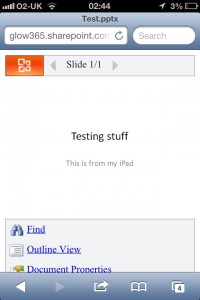 You can view your slides but not in the presentation view as you can in Wave 15.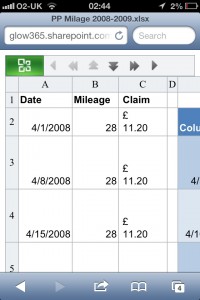 Looking at spreadsheets is a disaster on these devices, the screen is too small and only a small region of the spreadsheet is displayed at a time.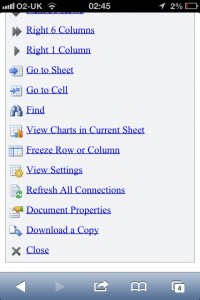 To navigate the spreadsheet you have to use this menu or the browse buttons at the top of the screen.
To Sum Up
Office 365 Wave 14 mobile support is very limited. Other than Exchange and Lync the support is poor to non-existent.  There are signs that Microsoft is improving support for iPad but Office 365 certainly wouldn't be my first choice to use on any mobile device.  If you have any questions please leave a comment and I'll try and answer them.