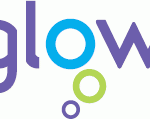 The migration of the existing Glow content to Office 365 isn't really going as planned.  I've spent that last few days browsing around the first batch of LA sites to be migrated, really just to get a feel for how this Office365 version of Glow might look.  Firstly, many thanks to those LAs who provided me with access for testing – very much appreciated.
This migration is the interim solution for Glow and was "in progress" prior to the production of the ICT Excellence Group Report and is not related directly to that stream of work (just for clarity).
RM, the current Glow contract operator, have been tasked with the actual migration from Glow's current antiquated Sharepoint 2003 (hosted in Scottish data centres) to the bright shiny new cloud-based Office365, hosted in Microsoft's Dublin data centre.
What's happening?
The core Glow service is based on Sharepoint 2003 and Education Scotland's plan was to move this service to Office 365 over the summer break and the weeks surrounding it – while schools were off and activity in Glow was low. You can see the migration plan here.
The migration is a multi-stage process. Glow is SharePoint 2003 and hosted in Scotland and Office 365 is Sharepoint 2013 in the cloud (well Microsoft's Dublin Data centre to be honest!)
To migrate you have to do the following steps (there is more to it but you'll get the idea):
1. Create a clone of your Glow instance from which to upgrade so that data is not lost. ( I was told in the past that Glow is, actually 33 sets of SharePoint, so I guess this is being done at least 33 times)
2. Upgrade your clone from Sharepoint 2003 to Sharepoint 2007.
3. Upgrade your Sharepoint 2007 to Sharepoint 2010.
4. Now there is a choice – either they are transferring data from the on site Sharepoint 2010 to an Office 365 Wave 14 cloud-based tenancy and then upgrading it to Wave 15 OR they are upgrading to SharePoint 2013 on site and then uploading the data to Office 365.
The result is the same, when you are done, you should end up with (maybe) a copy of your data, permissions, users, sites etc. etc. in the cloud based Office 365 Sharepoint site.
And, then on top of this multiple upgrade path, there is also the merge issue. Glow is moving to a single tenancy in Office 365 so the 33 Glow instances I mentioned earlier are being merged into one. Another layer of complication.
To deal with some of the merge issues and other technical challenges, RM are moving LAs and Schools individually across to the new Office365 solution. Your Glow Groups sit within your Glow sites. The process is too complex to be done programmatically: merging sites, setting permissions, who owns which bit of the new Glow etc. it's complex and a system administrators nightmare!
What are the problems?
Errors can be introduced at every stage of the migration. And I suspect because of the timelines and the size and number of the sites involved that few manually checks are being done on the upgraded SharePoint data.  Let's deal with some of the big issues.
Large Sites = No Glow365
Large Glow sites cannot be migrated as they are to Office 365. There are technical limits to the size of sites in O365 and a number of local authority and large school sites go beyond these limits. This particularly affects those LAs who bought into Glow in a big way. The solution is to fracture these sites and migrate them in bits to separate sites in O365 but this will break their navigation and the global permissions and storage/access for documents in the site. A process that will require LA/school staff to spend significant time to manually repair.
All Sites have to be rebuilt
Your content is migrated and held in a sub-site in O365 but, to create a useful site again for your school or LA, you have to rebuild your webparts, layout, structure etc. You can link to the migrated content or "unpack" it from the migrated sub-site by moving it into your main school site but it is a time consuming and daunting process.
Look at this image from a migrated site's main page.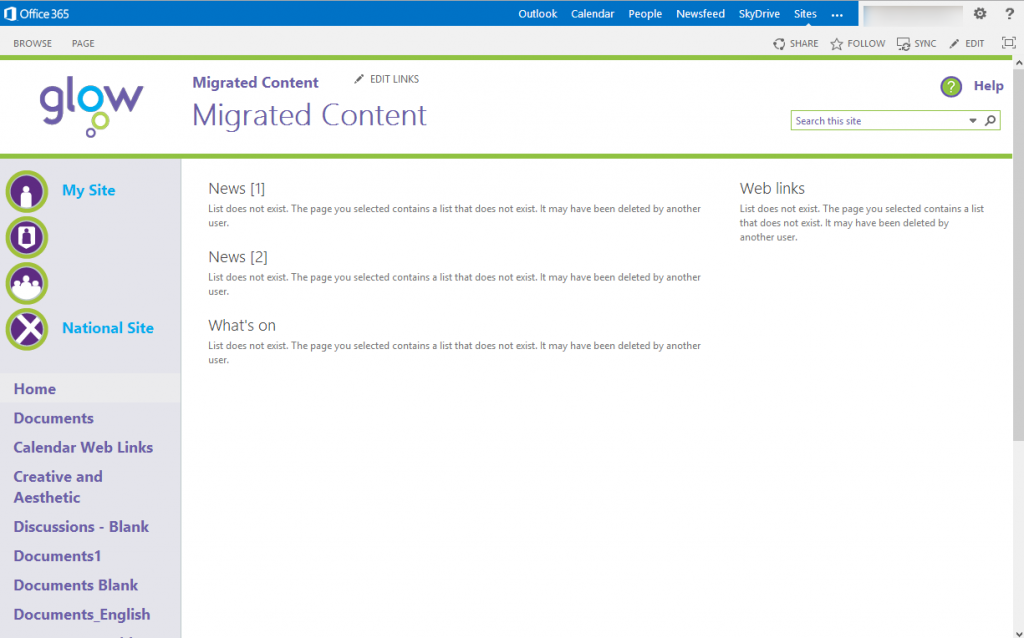 The list and news web parts don't exist. The list of web links isn't available. Wouldn't you expect to see this content migrated and in place? It's not there because custom webparts created for Glow are not available in O365.
And this page is buried in the school site inside a sub-site. Everyone who wants a usable Glow presence will have to spend hours managing and setting up their sites again. Notice that the links to "My School" and "My Authority" in the left hand navigation bar have failed to render. That is typical of pages in this single tenancy of Office 365 (more on this later).
The permissions are incorrect.
Permissions on some migrated Glow Sites/Groups are incorrect. This means that even when sites are migrated, users are unable to access some of their content/documents or are unable to access some of the functions (such as adding new documents or making folders). Some are unable to display documents in the Office WebApps.
Pages don't load quickly (or sometimes not at all)
Slow page load times. It can take rather a long time (between 6 to 25+ seconds) for pages to load. Sometimes the page just doesn't load. It can be loaded if the loading is stopped and tried again.
The whole of Glow is one tenancy in Office365 which creates huge load problems on Microsoft Servers and results in poor performance on page delivery. Education Scotland sources say there is nothing that can be done about this. Surely, it's the architecture of putting everything into a single tenancy?
Navigation doesn't work.
The Glow icon doesn't link back to the main site pages. The promised themes from Education Scotland (shown to key contacts in February) have not been deployed and the default theme (v1.0 Education Scotland theme) that is deployed doesn't include a navigation breadcrumb to help users know where they are. Apparently, "Education Scotland are working on a v1.5 theme to fix some of these issues and Scottish Government are working on v2.0 of the theme."
I've been looking at the migrated sites of four local authorities who were kind enough to provide me with access and the resulting layout of pages and documents is unfortunately not ready for use. A lot of work needs to be done to (re)create working sites.
The lack of "home" navigation and the proposed shortcut of editing the URL in the browser (!!!) compound the problems of user navigation and experience.
Some migrated web parts need their settings changed manually to work properly, drag and dropping web parts doesn't work on some migrated content, navigation links don't appear in one browser but do in another, mobile support (which was already fairly poor on O365) has some of its layout features broken with the v1.0 Education Scotland Glow theme that is live. Pop-ups asking for Microsoft Silverlight to be installed appear often, IE8 isn't fully supported and, as I mentioned earlier, there are odd issues with other browsers.
I could go on. But you get the idea.
So, where are we?
Local authorities and their schools can't really use their new O365 version of Glow in it's current state, without significant investment of time and resource so access to the "old Glow" is being continued until at least October for some local authorities. Any content they add to the old Glow won't be migrated I suspect.
Our crystal ball.
But we saw this coming back in early 2012, when the small team I was part of started scoping how to move to a next generation Glow service. We identified that over 95% of Glow documents and Glow groups were inactive – dead content that users never accessed. And that the difficulties of moving such a complex collection of groups, sites, and sub-sites meant that the migration just wasn't feasible. And, if we are moving to a new service, it would be better to start afresh with little legacy from the old.
So, as part of the migration to a new service we had planned a migration where users would migrate their content themselves using a "migration wizard". We would extract all their documents from "old Glow", allow users to select what they wanted to migrate to the new Glow, and then we would programmatically move these documents for the user to his/her own document store. We got as far as buying the server for this (£16,000 from memory), commissioning (and paying) a contractor to develop the extraction process and starting the actual extract before the team was shut down in April 2012.
The work to create new sites would have been less than it will now take to fix existing migrated sites and get them to a state where users will be able to use them effectively AND now we have thousands of migrated Glow groups and content that is legacy data that no-one is really interested in looking at.
So what next?
We have a partially-migrated Glow365 which needs significant work to make it usable. There is a lot of work to be done by LA staff if they want to get a usable Glow up and running.  As a number of LA contacts have said to me, it is they, not Education Scotland, that will bare the assault from staff in schools.
This migration and flaws in the O365 product, have a huge impact on the credibility and reputations of local authority staff tasked with taking forward Glow. I, like many others, hoped it would be better in O365, but from what I've looked at over the past few days, I'm not so sure.
Education Scotland have been working on resources to support LA staff (which are launching this week) but they have also lost a number of key staff who were working on the project (this has also had an impact on what they have been able to achieve).
Education Scotland and RM are working very hard to resolve all these issues.  Permission will be updated in two phases after the content has been migrated.  It is a very technical task so good luck to them and the RM team doing the work.
But what of the other streams of work in the migration plan?
We have a procurement for a new authentication service for Glow which has not yet been announced. It was due at the end of June, then 3rd July, then 16th August and nothing has been announced…yet.
We have WordPress blogs which will disappear in December that have yet to have a migration option identified. There was a plan to procure a new VLE but that seems to have disappeared and no procurement has been launched for either of these tools.
And plans for a custom built ePortfolio solution went to procurement but this was put on hold on 01/08/2013 after the initial Invitation To Tender was delayed (13/06/2013).
I am unsure that the migration, authentication and other service delivery issues can be remedied prior to the end of life of the existing RM Glow.
But maybe, if I had a crystal ball, I would suggest that RM will win the Portal and Authentication procurement. This in turn will mean minimum change over the next two years, with RM Unify becoming the authentication/launchpad service.  This would allow Glow Blogs (and ePortfolios) to be migrated to RM's Free Blogs solution (based on WordPress and provided by J2E), Glow Wiki's to move to RMs Free Wiki Service and the Sharepoint migration to O365 is already replacing the current Glow portal. Forums will be replaced by the forums in O365 (without any migration as was the plan). And the VLE won't be available – there won't be a VLE to migrate to from GlowLearn (there are very few active users of GlowLearn).
This outcome would be a masterpiece of business positioning by RM and the extension of the Glow contract, cancelation of Glow Futures, etc. will have surely played very well for them in the long run, if it happens.
End note…
But overall with the current migration issues and questions of the future, perhaps we need to think of Glow as a car that has failed it's MOT and will require many hours of work and thousands of pounds to fix. No-one wants to ride in our old car anymore. There is very little in the trunk of the old car that we need to take with us on our new journey. Perhaps, it's time to buy a new car and stop worrying about the legacy of the old one (or maybe just keep this one running long enough to get the new car!)
Since the money has been spent,  we need RM to finish the migration but I'm currently of the opinion that we should treat Glow365 as a suitcase in the attic, just holding all that stuff in case we ever need to look at it.  It is, after all, the interim solution.
And we shouldn't be afraid to retire a product. Google, Microsoft etc. do this all the time (MSN Messenger, Google Reader and many more have been removed from service over the years).
We need a new solution based on the recommendations of the ICT in Education Excellence group. We need to move ahead, at speed, with that task to build a learning environment for the future.
*Written in a personal capacity and not representative of any employers or groups I may be involved with.