For users of Glow, you will probably already know that it is moving to Office 365 Wave 15. Already your Outlook Wep App (OWA) has changed to the Office 365 Wave 15 one (which includes nice support for iPad and iOS – it's not great on Android 🙁 )
Bu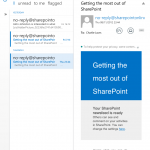 t, for those of you used to spell checking your work with the Outlook Web App spellcheck, beware!
In Office 365 Wave 15, OWA no longer provide any bulit-in spell check function. You need to rely on other spell check tools, such as the spell check function of the browser.  In IE10, Chrome and FireFox, there are great built-in spell check functions.  In IE8 and IE9, you need to use some third-party spell check tools. On mobile your choices are…more difficult.
Might be good it there was some communication from Education Scotland about the browser spell check so local authorities knew about this.  I found it out by chance and have just gone through the publicly available info and there is no mention of it (but it might be in one of the closed groups for key contacts).