I've spent today at MineCon2015 – the world's biggest computer gaming convention.  10,000 attendees plus hundreds of staff from Mojang and Microsoft, exhibitors and famous YouTubers (Yes, Stampy is here) – all gathered together to celebrate the worldwide phenomenon that is Minecraft.
What is Minecraft?
Minecraft is an open sandbox game using blocks. A common analogy is to call it "digitial lego" but it is far more than that. It is a creative world where players can explore, build, collect resources, create objects and work collaboratively with other players. It is available across all platforms (PC/Mac, Xbox, Playstation and on mobile devices).
Learning at it's Heart
What struck me today at Minecon was the love of Education and the passion of many people to use Minecraft as a tool for learning. In a Scottish context Minecraft is a perfect tool to use in our schools: the deep ethos of creativity in the Minecraft world resonates with the key message of Education Scotland's "Building Society" report – that creativity and problem solving should be the main focus of how we engage young people in ICT for learning.
The minecraft digital space presents huge opportunities to develop the four capacities of curriculum for excellence.  Here are just a few examples of how:
Successful learners: by building/creating in minecraft learners achieve a positive outcome. When created in a shared environment, other learners can interact and wander through another learner's creations. Imagine building an underwater office for your teacher?! Yes, that happened.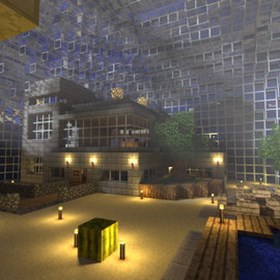 Minecraft is a sandbox, a game where learners don't see failure in the sometimes devastating context of school work, in Minecraft failure is part of "trial and error" and learners keep trying in Minecraft because they will, in the end, be successful – using Minecraft builds resilience.
Confident individuals: and that resilience and success builds confidence.  Within Minecraft learners are often faced with decisions around assessing risks and opportunities to communicate with others.  In a collaborative Minecraft space self-awareness is key – it's part of the rich interplay involved in collaboration and Minecraft presents a space where all learners can share and work with each other – including those learners who, for whatever reason, perhaps feel isolated or excluded from our traditional learning situations.
Responsible Citizens: "Should TNT be allowed on our server".  This was a key question raised at today's Minecraft Education panel. And what a question to use with learners, to engage them in conversations about what is and isn't acceptable.  I can here the learner responses now; "No, because you can destroy the buildings we've made", "Yes, because I want to use it responsibly", "Only some people should be allowed to use it".  It's only one of many, many rich discussion opportunities which arise from the Minecraft experience.
And Minecraft is already impacting on the world as a "responsible citizen" – the inspiring BlockByBlock collaboration between Mojang and the UN Habitat Project is a wonderful example of how Minecraft is having a hugely positive impact supporting communities in the developing world to shape their social spaces.

Effective contributors: Minecraft is about survival, about working together and making that effective contribution to building the world.  The ability to communicate effectively with others, to work in a team, to solve problems, create and develop, and apply critical thinking are all key requirements for success in the Minecraft world. This video from the "Underwater Office" project above, illustrates how learners are effective contributers within the Minecraft space.
Barriers
So, what are the barriers to using Minecraft as a digital tool for learning? Getting it installed, getting accounts for learners, getting the local authority to open the firewall to allow the game to communicate with servers, setting up a server for just your learners and many more.  They are not insurmountable obstacles
Many of those issues can be dealt with by MinecraftEdu, a collaboration between educators and Mojang to make the game available to schools at a discounted cost. They also work on a modded version of the game specifically for the school environment.
Other barriers, such as getting through LA networks, are not insurmountable – with leadership and buy in at a local and national level change can be effected – in my experience presenting a sound case for learning and a clear list of technical requirements is enough to start the discussions around making technical changes to allow new traffic on the network.  Using Minecraft in Education should be one of a number of strands that the Digital Learning and Teaching Programme in Scottish Government and Education Scotland should be considering.
Don't be scared
There are other barriers which are more complex: the social and cultural issues relating to the use of Technology in Education and the dynamic between teacher and learner.  In the Minecraft world, the teacher is not the expert and, for some, this is an uncomfortable position.
A teacher uses the best tools to support and shape learning, we are experts in setting expectations, asking questions and directing learners to make the most of the resources available to them.  We don't need to be Minecraft experts to use Minecraft effectively in our classrooms: we have a class full of Minecraft experts in front of us.
Derek Robertson's wonderful Dundee Waterfront project with youngsters to reshape the tayside space is quite amazing and an example of how teachers can leverage the imagination, creativity and ingenuity of their learners to great effect without being Minecraft experts themselves.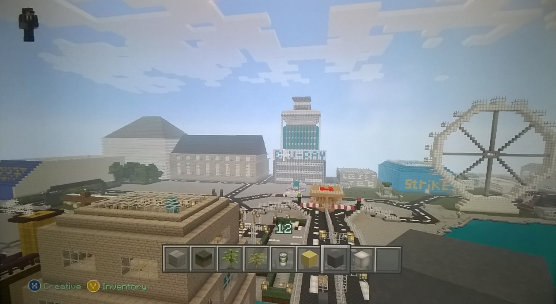 Don't Take Away The Fun
Sometimes in Education we take an activity and apply so much structure to it that we take away the very thing we wanted.  We define the learning activity because we want a specific outcome.  The beauty of Minecraft is the outcome can be … well, anything. When teaching with Minecraft we must be careful to keep the free spirit of the game – set open ended tasks that allow learners to discover findings themselves. Do not create worlds for our learners, allow them to be the creators and not the consumers – that's where the challenge and fun of Minecraft lies.
AND DO NOT TEACH MINECRAFT!!! There is a rich resource of support available from the Minecraft community: Youtubers, Bloggers, Fan sites – all provide information about how to mine resources, build redstone circuits, craft objects and much more.  Encourage your learners to "mine" the rich resources out there to be successful.
Something special is coming
Microsoft and Mojang have launched an Education portal.  You can find out more about their plans at http://education.minecraft.net/.
Today at Minecon2015 has been an amazing experience. Day 2 tomorrow has a number of Education panels and sessions and I'm looking forward to finding out more!